The fall season has officially started. Also popularly known as a sweater weather season, it is undeniably a favorite for many. And that mainly comes from the part about wearing a sweater. Over the last few years, the fashion trends and the fashion industry, in general, have reintroduced sweaters as part of daily wear. The sweater today is not only associated with that warm clothing piece, that is heavy and can sometimes be itchy too. Moreover, it is a popular and very demanded fashion garment, coming in different types of fabrics, suitable for different styling and occasions. And the type that stands out the most is the oversized sweater.
Although the oversized sweater might seem like a pretty basic piece, it delivers a relaxed silhouette with lots of versatility. It offers an effortlessly cool vibe, and all of that when it is rightly styled and paired. If you are wondering how the fashionistas and the IT girls do it, well, it all comes down to picking the right piece and styling it right.
So, for this fall season, we have prepared 5 easy ways that you can wear the oversized sweater and look like you have stepped down from a fashion magazine.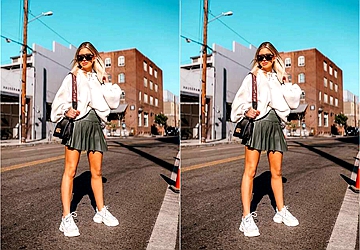 1. Oversized sweater + miniskirt + sneakers
A mini skirt can work great for the fall season, especially if it is paired with a cozy, oversized sweater. This is a style that delivers the perfect transitional outfit. The combination of the mini skirt and the sweater delivers a preppy look. Add a pair of sneakers that will complete the outfit. This outfit also always chooses footwear like combat boots, ankle boots, loafers, and even heeled mules.
2. Oversized sweater + trousers + loafers
One of the most stylish ways of wearing an oversized sweater is to pair it with loose trousers. This is considered by many to be the winning look. It delivers effortless and cool energy. A great option is to go with leather pants or luxurious silk pants. For contrast, choose a soft sweater in an opposing hue. Finish the look with cute loafers.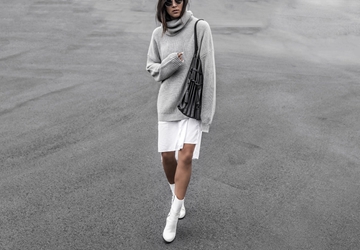 3. Oversized sweater + midi skirt + slouchy boots
Another pretty great look and outfit that you can achieve with an oversized sweater is to style with the popular midi skirt. If you pick the pieces right, you can achieve a feminine and elegant outfit. The sweater can come in some print, while the skirt is best kept plain. The slouchy boots will finish the look.
4. Oversized sweater + stirrup leggings + pumps
This is a very familiar look that is easy to nail. Choose leggings in black, go for an oversized sweater in contrasting colors and complete the look with the classic pump. This look is a total hit.
5. Oversized sweater + maxi dress + combat boots
The maxi dress can work perfectly for fall too. With an oversized sweater, you can achieve a layered look. Just put on the sweater and add combat boots. This is a look that is street style fashion approved.