One of the most common things women do when they do not know how to make a statement makeup is to choose the statement lip instead. That is definitely not something new. In fact, French women find the statement lip as their go-to choice. From the NYFW, as a place where lots of new trends are born, the statement lip opened the way to the statement's eyes. More precisely, the bold eyeshadows were the focus of the makeup and beauty looks. Also, there were lots of bright eyeliners across the lids. And that was more than enough for the new trend of statement eyes to be created.
From a general take and overview of the NYFW participants, it was more than obvious that the majority of the looks that sported the statement eye went with one color on the lids. The key to a successful look of the statement eye trend is to keep the rest of the look minimal. That means a little blush and gloss across the mouth are more than enough so that the eyes can be accentuated.
Here is a quick overview of how popular and famous fashion brands incorporated statement eyes on their models.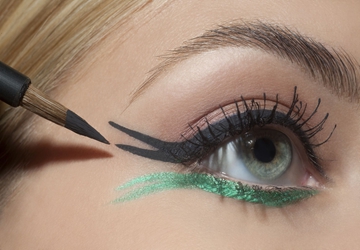 Alice + Olivia
The decision and the inspiration behind the statement eye makeup look for this brand come from the playfulness it provides. Recreating the classic black eye, but with the choice of blue and pink is what dominated the brand's runway. Instead of a smokey eyes, there were lots of eyeliners in black, turquoise, and pink. The rest of the makeup looks were finished by subtle hydration on the cheeks, and gloss on the lips.
Prabal Gurung
For Prabal Gurung, the main focus was minimal makeup. That included everything from brushed-up brows, and dewy skin, to a touch of gloss on the lips. For the eyes, the strong purple and blue eyeshadows were chosen to make the statement look. the curved cat-eye lines perfectly showed the colors, without the presence of any mascara or eyeliner.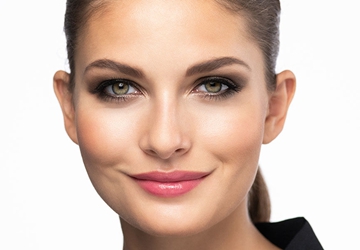 Tommy Hilfiger
For Hilfiger, the inspiration behind the makeup looks was the '80s NYC runway glamour. The color options ranged from silvery shades, smokey eyes, kohl-lined lids, and glossy lips. The pop of color was reserved for the eyes, making the eyes a statement piece of the entire makeup look.
Marrisa Wilson
Not just trends, but history is what stood behind the looks of Marrisa Wilson. The most appealing were the green and the red statement eyes. They were inspired by the flag of Guyana. Besides these colors, there was a bit of glitter under the eyes for some additional drama. These shimmery effects were inspired by the ocean.
Tory Burch
The spring/ summer 2023 fashion runway at Troy Burch was accompanied by a lot of glittery makeup. In fact, there was a lot of silver glitter eye. The looks delivered a mixture of silver and copper metallic eyeshadow.