As we might be enjoying the long-awaited summer and the magic, it carries with it, the fashion industry is always a season or a year ahead. This means that next year's fashion collections are already in preparation. The same applies to the accessories, too, especially the jewelry. So far, some of the jewelry sneak- peek suggests that the oversized hoop earrings, sleek chokers, and collar necklaces will be pretty huge. And not just these but many others. For the upcoming 2023 jewelry season, the trends will be all about pieces that will spark joy and bring a lot of versatility.
According to the experts, the 2023 jewelry trends are about pieces that will complete one's whole look. This comes closely connected to details that might have a more classic nod, as they are the ones that can be worn longer as well as in more years to come. Expanding the jewelry collection with some new pieces must be done correctly, and several things must be considered. The first is to determine the metal you prefer that flaunts your skin tone. This includes the stones, too, as well as the cut that will flatter the style. Embracing new ideas is also suggested since it can add some diversity to your jewelry style.
There are some options to consider to get a head start on the 2023 jewelry trends and pieces.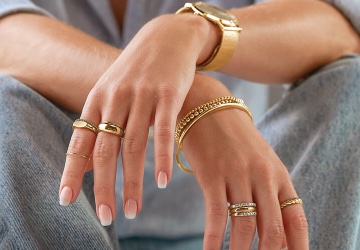 Scale rings
The beauty about the trend of scale rings that will come on each finger is that there is no particular style that you need to follow. For those who prefer a minimalist look, many options include no stones. Focus on the texture and the material and start mixing the shapes. If you are a fan of a maximalist style, then colored stones and combining them is what will deliver an eye-catching look.
Statement pendant necklaces
Pendants have become a big thing for the jewelry 2023 season. They look amazing with everything, and they deliver a pretty unique style. They are a current trend, so if you expect them to be an investment piece, this trend is not for you. However, they look great as part of beachwear attire or easy summer outfits.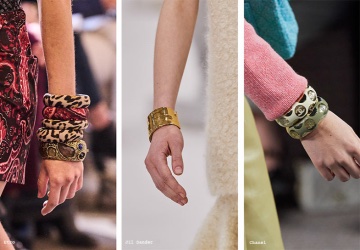 Cuff bracelets for both wrists
For a long time, statement cuffs were only worn on one wrist. But, the new trends suggest wearing them on both wrists, making them even more statement pieces than they were. So, choose one in a graphic gold and another in a crystal-embellished version and style them with some cure maxi dress or tailored separates. It will instantly deliver a runway look.
Oversized button earrings
A return of big earrings is inspired by vintage trends. The new fresh version introduces them with colored stones, perfect for those who want to add color to their outfits. Although this might be more of a summer trend, there is no restriction for all those who wish the color present in their firms.