Fall is officially here. That means, it is time to leave the summer clothes at the back of the closet, pull out some warmer pieces and get into the whole sweater-weather mood. This fall vibe does not only apply to fashion, but to beauty and nail manicures too. When it comes to nails, the season of tropical tones and neon colors is finished. But, there is no need to despair since the fall 2022 season has a lot of interesting and fresh novelties. Moreover, you might hardly have the time to try them all out.
Each fall season comes with several nail colors that are simply the season's favorites. That includes rich chocolate brown, deep emeralds, dark greys, and so on. However, there are some new and existing novelties that will make the fall nails more interesting. The marble nails for example are making a splash, as well as details like gold leaves and jewel-toned polish.
So, if you are ready to try out some new colors and polishes, here are some of the hottest nail designs and colors for this fall of 2022.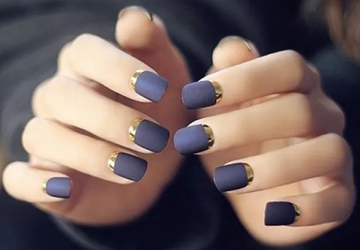 Chrome French tips
Chrome nails are one of the currently biggest and most demanded nail designs. Their popularity started at the beginning of the summer season, and it is still going strong towards the fall season. Women are pretty obsessed with this style. An option to try out is the blue color, with a glazed finish that will deliver a glamorous look to the nails.
Emerald Green nails
One of the most popular nail colors for fall is always green, and this fall, it is emerald green. It is a vibrant, strong, dominant, and appealing nail color. For a better effect, a top coat of shimmery polish will make the nails look luxe and stylish.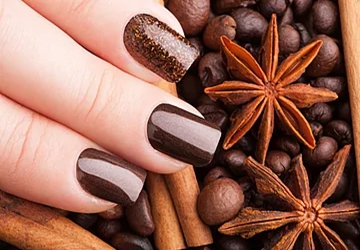 Chocolate Brown nails
Another popular fall nail color is chocolate brown. It is warm and elegant, flattering to all skin tones and nail shapes. It carries a certain vibe that is always classy.
Gold leaf nails
The gold leaf detail is one very appealing and interesting detail that can elevate the look of the manicure. It is an elegant touch to the classic fall nail color pick. It is more than enough to add this detail to one or two nails on one hand, since you do not want to overdo the look. One great option to try is the gold leaf with a jade polish.
Marble French tips
French tips in all their shades and colors are making dominance on the nail art sky like never before. But, for this fall season, the marble effect is also reigning in full swing. As a choice of warmer tones, the marble effect can be achieved with cappuccino nudes and the addition of deep violet and green hues.
Mauve half moons
The half-moon design is a nice option for fall. With the purple mauve color, this is a winning nail combination.