There are several fashion garments that are always in rotation for every fashion lover. Especially when fall comes, the pieces that become part of a go-to style are black leggings, oversized sweaters, ankle boots, and so on. When it comes to footwear, especially ankle boots, one of the most popular and frequent choices is the black Chelsea boots. They are very practical and easy to style and make every look more elevated and stylish. However, the last several years have put another type of ankle boots on the spot, and those are the white ankle boots.
So, many would wonder what is the deal with the white ankle boots. Well, the white ankle boots bring a sort of lightness to the gray winter and point attention to the feet. As a shade, white goes with everything and makes any outfit much more sophisticated with less effort. The market today offers an abundance of white ankle boots options. There are those with a chunky rubber sole, with the architectural square heel, and so on. Whichever the choice, they will definitely be a key piece for every woman's closet.
If you are set on shopping and finding a suitable and appropriate style of white ankle boots, here are several suggestions that might help the search.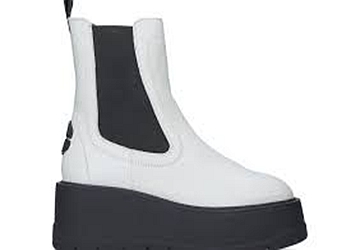 Two-tone
Black and white are two contrasting colors. However, they have always worked great in fashion. When it comes to two-tone ankle boots, this is a combination that you will not want to miss. Look for a white ankle boot with a black platform and heel. It is an option that you cannot go wrong with.
All white
The all-white version is a very popular option for those who look for a clean aesthetic. Such shoes deliver a clean and sleek look. They are the perfect option to style the maxi dress and achieve an elegant vibe. Also, a pretty cool look comes from classic jeans and dark-colored outerwear.
Platforms
Another trend that has made a comeback on the footwear scene is platform shoes. This fall, again, they are returning on a big door, but this time, in white color. What makes them so demanded and popular is that they provide comfort, and height, as well as a cool and edgy look. They can look classic when styled with some more basic fashion pieces.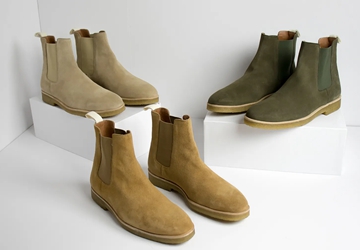 Chelsea style
The Chelsea ankle boots style is among the most popular, demanded, and adored boot styles in footwear.
But when you add a white color to it, it instantly gets a more rock and punk vibe. The modern and fresh looks and designs combine the edgy with the sleek so that these Chelsea boots can work as an everyday option.
Statement boots
There is no better way to make a statement with your ankle boots than choose ones in a white shade. Moreover, some details like sparkles, buckle straps, pearls, etc can deliver an unexpected look and appearance.